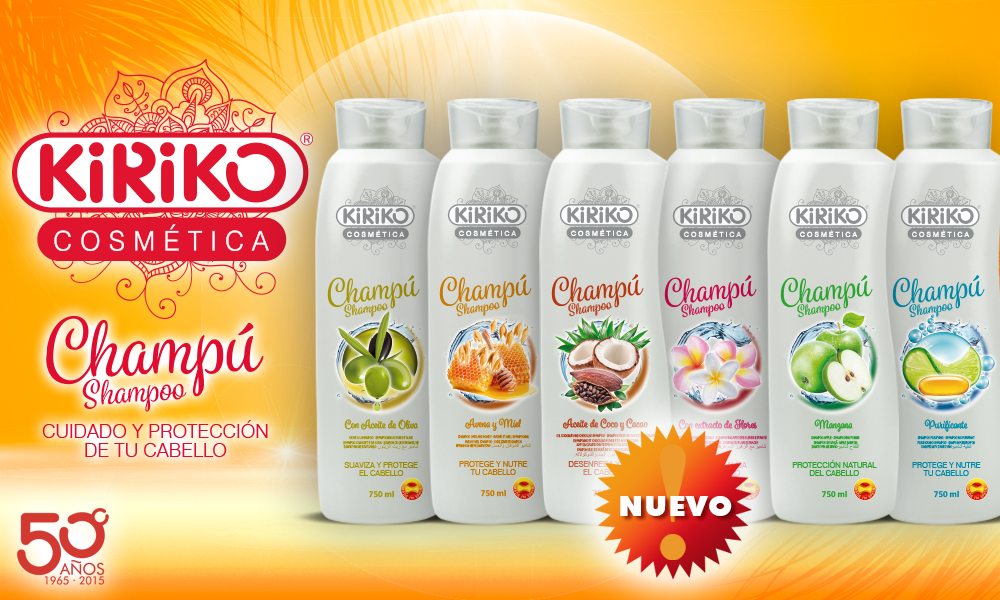 NEW SHAMPOOS BY CASA KIRIKO
Kiriko Cosmetics has developed a new range of 7 different shampoos: Coconut and Cocoa Oil, Oats and Honey, Olive Oil, Flower Extract, Apple, Purifying and Children's Shampoo.
The Cosmetics sector of Casa Kiriko has developed a whole range of new shampoos that help to restore the natural shine and silky touch of all types of hair: Each shampoo has been formulated with a combination of surfactants and natural polymers that combats dryness and helps to untangle and manage your hair. In addition, its active conditioner provides excellent, beneficial properties for your scalp.
Coconut Oil and Cocoa Shampoo
Our shampoo with coconut oil and cocoa prevents hair breakage and split ends. It untangles and smoothes your hair, regenerates and deeply hydrates your hair providing flexibility from the hairline to the ends.
Oat and Honey Shampoo
Ideal for dry, damaged and coloured hair. This shampoo protects and moisturizes damaged and brittle hair sheathing it with a nice shine. It also envelops your hair with a very pleasant scent. For shiny and easy-to-comb hair.
Shampoo with Olive Oil
This shampoo has been specially developed for normal and dry hair. The combination of moisturizing actives and olive oil softens your hair and maintains the natural balance of the scalp.
Shampoo with Flower Extract
Flower extracts nourish and repair damaged hair – whether by sun, pool chlorine, sea salt water or other factors. This shampoo by Kiriko softens and smoothes the hair and gives it a new shine.
Apple Shampoo
Apple protects naturally, gently nourishes and revives your hair. It also provides the moisture it needs to look healthy and shiny and leaves a pleasant and fresh fragrance. This shampoo is suitable for everyday use and all types of hair but especially for thin and damaged hair.
Purifying Shampoo
For deep hair cleansing: Kiriko's purifying shampoo releases your hair from wax, oil, conditioner and other products we often use in our hairdos. It also removes mineral deposits from hard water and pool chlorine while protecting and nourishing your hair.
Baby Shampoo
Specially developed to make bathing and washing kids' hair as pleasant as possible, also for parents. Tested under dermatological control, this shampoo is even suitable for babies.