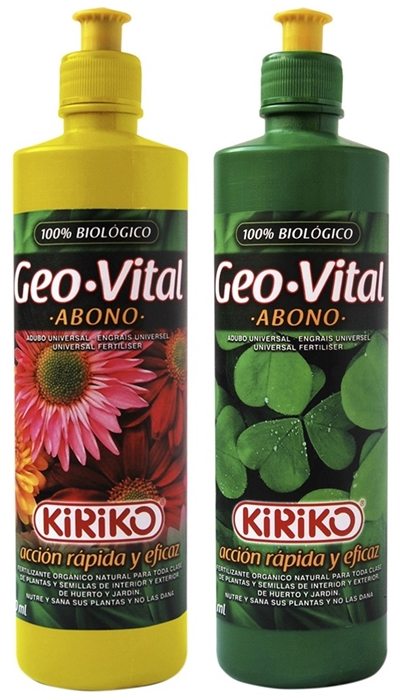 Geo-Vital: The best help for your plants
Regardless if you have planted your bulbs and tubers in autumn or if you want to plant them now: All of them can do with a little extra help and nutrition. Both our fertilizers, Geo-Vital for Flowers and Geo-Vital for Plants will help them grow well, healthy and robust.
Planting bulbs or tubers
If you like spring flowers, you'll be already waiting for the tulips, hyacinths, daffodils etc. to come out, since you've planted them in autumn. But if you like to work your garden or terrace-plants in spring, the following basic tips will be of interest to you:
First of all: Bulbs and tubers that can be planted now will bloom in summer. These are, for example, dahlias, gladioli and cyclamen, lilies and begonias. You'll find more summerflowers in the …. (or supermarket) that will fill your garden in summer with bright colors.
When buying, make sure that the bulbs are in good condition, i.e. that they do not have holes and are hard. You may buy them having already sprung up, but not blooming. You can plant them in pots or in the garden (with the sprout upturn), provided the soil drains well to avoid that the buld molders.
Prior to working the soil, check the label to see if the plant prefers sun or shade. Once you decided the site, loosen the soil to make it fluffy. Take care of the distance between one bulb and another. If there is no label, consider the following rule: Small bulbs need to be planted at aprox. 10 centimetres distance, bigger ones at 20 cms. The depth is very important too. Make sure that the top of the bulb is covered by at least as much soil as the bulb itself measures. In other words: The depth must be at least twice the size of the bulb or tuber.
When you've covered your bulbs with soil, water them and add some of Casa Kiriko's Geo-Vital fertilizers: Being 100% organic, it provides all the necessary nutrients to make your flowers grow healthy and strong, filling your garden (or balcony) with nice and bright colors.